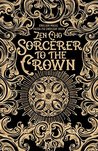 Sorcerer to the Crown by Zen Cho
My rating: 2 of 5 stars
Set in England during the Regency Era, where magic is a normal part of the world and yet is diminishing in England for an unknown reason... sound familiar? As much as there are similarities between the premise of this book and Jonathan Strange & Mr Norrell, in my opinion, Clarke's work is far superior.
I struggled to engage with this book and it felt like quite a chore for a significant part. The only reason I finished it was because I was reading with others for a "Book of the Month" and so felt compelled to keep going.
Cho has chosen to write the book as not only set in that period, but also her style of writing. This does create a barrier while reading and makes it difficult for the story to flow.
More than that, I just really did not like the characters. And if I have no one to like, then it becomes impossible for me to enjoy the story.
Finally, this book had so many YA components that although the MCs are adults, I still feel the book should be marketed as YA. This did not work for me as an adult Fantasy book.
View all my reviews