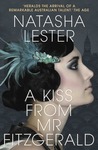 A Kiss from Mr Fitzgerald by Natasha Lester
My rating: 4 of 5 stars
Evie throws herself into New York and into a life that is completely shocking for the time (1922)... she decides she wants to be a Doctor. And not just any Doctor... and obstetrician! Add to this her night job as a Ziegfeld girl and you have a recipe for a book that embraces the glitz and glam of the time, while exploring the historical progression of women in the medical field.
This book is a lot of fun and has some great characters and romances, but it also deftly explores the role of women and medicine in the 1920s.
For those that have read Lester's previous work, I would say the writing is just as compelling, but the subject matter is much more "upbeat" I highly recommend this to Historical Fiction fans.
Thanks to the publisher and NetGalley for providing me with a free copy in exchange for an honest review, and to the author Natasha Lester for agreeing to participate in a give-away and Author Q&A with our book group, Nothing But Reading Challenges.
View all my reviews